Command School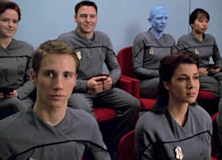 Command School is open to any UCIP Starfleet Officer or Enlisted Officer who meets the course requirements and desires to expand his or her knowledge of Starfleet and the United Confederation of Interstellar Planets. For example: what happens behind the scenes, how a department operates, how to work with the Command Team, write a plot, run your own SIM or work within the organization OOC.
Please remember it is your responsibility to save your course emails, completed exams, completion notification for future verification. It is important not to count on the Database, the Academy, or instructors to keep this information on file.
If you have any questions or need help with any Command School Course contact the course instructor or the Deans of Command School. We are happy to assist you in your pursuit of role playing "greatness"!
Rear Admiral Stormy O'Brien
Dean, Command School
or
Captain Shala Natai
Deputy Dean, Command School
Class Catalog January 2415 - January 2416
Please be sure you have fullfilled the course requirements before applying for Command School Courses.
You can enroll here for any of the courses listed below
•Then download the course material and get started.
•Expect an Acceptance eMail from the course instructor within 48 hours.
•Follow the directions in the Acceptance eMail.
•Course Exams are availble by request. Contact your instructor.
•If you have not recieved an acceptance letter please contact Rear Admiral Stormy O'Brien cmd@academy dot ucip dot com
SENIOR OFFICER TRAINING

Guide

The Senior Officer Training course is the foundation for the all the Command School Courses, and is designed to assist department heads in running their departments. it is an important class for all officers, because it introduces the rudiments of command, and addresses some of the issues that simmers wanting to command will face.

Requirements:
• Lt Junior Grade or Crewman 3rd Class
• Ensigns and Crewman2 with CO's Letter of Recommendation

Fleet Admiral Donald Davis & Commodore Andrew Munroe
DIPLOMACY

Guide
Diplomats have been in the core of all alliances and non-aggression treaties, in trade agreements and tools for Starfleet, as well as provide cultural expertise and mediation between societies since Diplomat's primary tool of choice is not a phaser or a sword, but their words. This course will prepare you to wheel and deal with like best of the UCIP's Diplomatic Core.

Requirements:
• Completion of the Basic SIM Guide Course
• Completion of Senior Officer's Training

Rear Admiral Stormy O'Brien
EXECUTIVE OFFICER TRAINING


Guide

This is a course for officers who want to become Top Command personnel. The Executive Officer Course teaches skills important for holding positions of responsibility and authority over other officers. Students will also learn about command procedures and protocols within UCIP.

Requirements:
• Senior Officer Training

Restricted To:
• LtCmdr/ Maj/ CPO/ SSgt/ CWO2
OR
• Lt/ Capt/ Sgt/ CWO3 with a CO's Letter of Recommendation
• Open for all XO's and CO's, with a supporting letter from Starfleet Commander

Rear Admiral Stormy O'Brien
COMMANDING OFFICER TRAINNG


Guide


This is a course for officers who want to become Top Command personnel. The Command Course teaches skills important for holding positions of responsibility and authority over other officers. Students will also learn about command procedures and protocols within UCIP.

Requirements:
• Executive Officer Training

Restricted To:
• Cmdr/LtCol/GSgt/CWO1
OR
• LtCmdr/Maj/CPO/SSgt/CWO2 with a CO's Letter of Recommendation
• Open for all XO's and CO's, with a supporting letter from the Starfleet Commander

Captain Shala Natai & Captain Hailey Konhua
ADVANCED COMMAND SCHOOL


Guide
This course provides knowledge and insite into simming as a Flag Officer. Flag Officer simming is not quite the same as simming as a ships officer and requires somewhat different skills. The course also describes what flag Officers are in terms of position and rank.

Requirements:
• Command Officer Training
OR
• Flag Rank of Commodore - Fleet Admiral

Fleet Admiral Kerry Malone