Welcome to: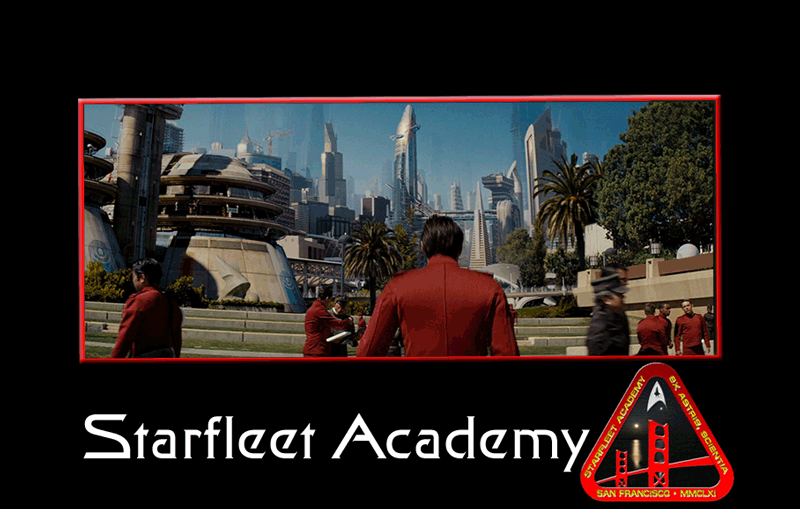 Starfleet Academy is an educational organization that was created by the United Confederation of Interstellar Planets to serve all simmers and SIMs belonging to UCIP by providing information and instruction wither it be basic simming or knowledge of deep space for the express purpose of enriching the simmers experience and providing background to further the simmers career in the UCIP.
Attention Students:
If you are signing up for classes please go to the menu bar at the top of the page and choose Course App.
Looking for a specific Academy Course? This link Full Curriculum leads to a complete list of courses currently offered.
Students are not required to join this website to to take Academy courses.
Starfleet Academy proudly serves the following SIMs:

Akira Class
SIM Platform: PBEM (play by email)
Commanding Officer: Captain Korath
Executive Officer: Commander Kestiana Sahal
Second Officer: Captain Desmond "Helo" Kivicus



Sovereign Class
SIM Platform: IRC (Live chat role play)
Sundays 9pm Est
Commanding Officer Captain Stormy O'Brien
Executive Officer Commander Titanic MD
Second Officer Lieutenant Commander Steck


Insignia Class
SIM Platform: PBEM (Play by email)
Commanding Officer Commander Zivit Agron
Executive Officer Lieutenant Homer Wells
Second Officer Lieutenant Commander Alexander Canaris


Odyssey Class
SIM Platform: PBEM (play by email)
Commanding Officer Acting Captain Mark Rhodes
Executive Officer Lieutenant Commander Kasim Dhej
Second Officer Lieutenant Alyssa Lucas


Timmis Class
SIM Platform: PBEM (Play by email)
Commanding Officer Shala Natai
Executive Officer John Pentac
Second Officer Lieutenant Commander Peter Birt

Discovery Class Deep Space Explorer
SIM Platform: PBEM (Play by email)
Commanding Officer Captain Rochelle Ivanova
Executive Officer Lieutenant Commander Amelia Waterhouse
Second Officer Crewman Cecil duPont

Latest News Items
Posted on 241407.18 @ 1:31pm by Admiral Jim Scott in General News
Greetings Academy

The SOT position has been filled Commodore Andrew Monroe

We are still looking for an Flag Officer course Instructor.

Respectfully Vice Admiral Jim Scott
Commandant, Starfleet Academy, UCIP .org
Posted on 241407.13 @ 10:58pm by Admiral Jim Scott in General News
Academy is looking for an Instructor for the following posts.

Enlisted and Senior Officer training.

The prerequisite is having taken either of the two courses before.

Contact Vice Admiral Jim Scott Academy Commandant or
Commodore Stormy O'brien the Deputy Commandant

Respectively Vice Admiral Jim Scott
Commandant Starfleet Academy, UCIP.org
Posted on 241407.09 @ 4:53pm by Vice Admiral Stormy O'Brien in Sim Announcement
Weekly Training Post:
Part 1: Communication


PART I: COMMUNICATION

In Character or Out of Character, communication is the key to keeping the SIM moving in the right direction. It is important to make sure you understood what was said. It is also important when giving directions you ask questions to make sure the directions were understood. And remember we are all different in the way we communicate and perceive.

Professor Warnke's* Seven Simple Rules of Communication:

1. The B's: Be Confident. Be Respectful. Be Positive. Be Patient. Be Interested. Be Friendly (it's ok)
2. Use open-ended questions. -Don't interrogate.
3. Listen twice and speak once paraphrased for online as:
Read twice and type once.
4. Knowledge is power. So pay attention!
5. Take a Risk! Rejection is not the end of the world
6. Start Small -Inch by inch anything's is a cinch. Yard by yard it all is hard.
7. And remember: If you are bored. You are boring.

Professor Warnke's Unpardonable Sin in Communication: Gossip
Gossip is Idle talk or rumor, especially about the personal or private affairs of others. It forms one of the oldest and most common means of sharing (proven or unproven) facts and views in a harmful way. Gossip has a reputation for the introduction of errors and other variations into the information transmitted. The term also carries implications that the news so transmitted has a personal or trivial nature, as opposed to normal conversation. It often used to assassinate [1] the character/reputation of another person. Gossip destroys lives.

Gossip Defined:
A person who habitually spreads intimate or private rumors or facts.
[1] as·sas·si·nate:
1. to kill suddenly or secretively
2. to murder premeditatedly and treacherously.
3. to destroy or harm treacherously and viciously: to assassinate a person's character.

Misunderstandings, Issues, Problems, Plot vs Subplot, Mistakes:

People most often want to do the right thing, so be gentle in your approach to misunderstandings, disagreements, and someone's creative idea for a plot or subplot. Repeat what the person said back to them and ask if you have understood. Point out what you like about their idea and be clear about why you disagree.

If you notice crewman or assistant's making specific mistakes:
--Do not correct them via group email.
--Be Friendly. Be Helpful. Don't nit-pick.
--Do Contact the person privately by email or private message.
--Point out the great job the person is doing and gently point out the specific errors and guide the person to the best place to find out the information needed such as the SIM guide.
--Do send BCC to your XO and CO to keep them aware of the problem or issue, or send CC so the person in question won't be freeked out.
-- Most times this will take care of things…however, if the problems or issues cannot be handled, then use the Chain of Command



(*Prof Warnke is a professor at a local college. Quotes used in this missive are used with her permission.)
Posted on 241406.13 @ 1:19pm by Admiral Jim Scott in General News
Thanks for the interest everyone.

The Instructor position has now been filled.

Respectfully Vice Admiral Jim Scott
Posted on 241406.12 @ 11:17am by Admiral Jim Scott in General News


Greetings

We are currently looking for one new simguide Instructor to
fill a vacant position.

The only requirement is the person must have completed simguide and be willing
to teach it.

Interested parties please contact Vice Admiral Jim Scott Commandant Starfleet academy,
Commodore Stormy O'Brien Deputy Commandant, or Fleet Admiral Donald Davis Dean of
Simguide.

e-mail kb8edl@gmail.com
academy Channel on IRC #academy

Respectfully Vice Admiral Jim Scott
Commandant, Starfleet Academy, UCIP.org
Latest Mission Posts
Mission: Visiting the USS Endeavour
Posted on 241412.05 @ 8:33am by Vice Admiral Stormy O'Brien & Admiral Jim Scott
Jim sat in the XO's Chair looking across the spacious Bridge of The USS-Endeavour Registry 1509 a sovereign class star ship that had served many years in the delta quadrant. She now sat in the space refitting yard. Jim looked out at the stars shining brightly in many different colors…
Mission: The Weekly Training Post
Posted on 241407.23 @ 12:08pm by Vice Admiral Stormy O'Brien
Weekly Training Post Part III 07-23-2014


So you're not a cadet any more, you might be a big bad Admiral- even big bad admiral's need to review... rules, character bios...and the 10 Basic Rules of Simming. :oP

10 BASIC RULES OF SIMMING

01. Creativity is key, creativity gives life to…
Mission: The Weekly Training Post
Posted on 241407.16 @ 4:48pm by Vice Admiral Stormy O'Brien
Weekly Training Post July 16, 2014

Part II: The Chain of Command

The Chain of Command is devised to help keep the SIM flowing smoothy (email SIM or IRC SIM.). If you have a problem that you cannot resolve, a disagreement, need help with a subplot idea, something to keep…
Mission: IRC MEETING
Posted on 241404.06 @ 4:35pm by Vice Admiral Stormy O'Brien
IRC ACADEMY MEETING
FRIDAY MARCH 28, 2014

PRESENT: 5
Vice Admiral James Scott,, Commandant
Commodore Stormy O'Brien, Deputy Commandant
Fleet Admiral Donald Davis, Dean of SIMGuide.
Captain Vokar, Instructor SIMGuide/Security -Tactical
Commodore Andrew Munroe, Instructor Astrophysics

ABSENT:
Meeting is not mandatory.

MEETING LOG:

#06[10:18] !attn
[10:18] I thought Voll was…